3 Storey Water-Fed Window Cleaning Package With 95m Hose Kit
Regular price

Sale price

$2,143.90
3 Storey Water-Fed Window Cleaning Package
Get jobs done quickly and easily with this complete water-fed package for 3-storey buildings. The SL-X 35 water-fed pole is great for 3-storey work that can be extended with the necessary extension pieces. Along with the 12.5L DI System on our sturdy, lightweight aluminium trolley, your window cleaning abilities will grow very quickly. 
Kit Includes:
Telescopic Pole: Gardiner SL-X35 Full Carbon Fibre to reach 3-story buildings. 
Pole Tip: Gardiner Quick-LoQ Brush Pole Tip to connect the pole and brush.
Brush: Gardiner Super-Lite Medium Mixed Brush comes ready to plug into your pole hose kit.
Pole Hose: Verdi Super Flex Pole Hose Kit (15m). You can run this internally or externally to your Gardiner SL-X35 pole.
Hose Reel: Claber Metal 40 hose reel with 80m of 8mm(id) Gardiner Minibore hose with quick connect fittings. 
Pure Water Treatment System: 12.5L Pure Water Trolley System has built-in Sediment and Carbon filters and comes filled with 12.5L of resin to get you going straight away.
Dual TDS Meter: Built into the trolley to quickly check the input and output TDS, critical to monitoring your resin's performance.
Lead Hose: 2x 1.5m of hose with fittings attached comes included to connect the tank to a water source.
Funnel: DI Resin Filling Funnel to fill your tank easily. The bottom of the funnel fits into the riser tube in all of our tanks for efficient resin filling.
FAQ's
When do I need to change the resin?
When the output TDS tests 20ppm or higher.
How much resin do I need to fill the tank?
12.5L of resin is needed to fill the tank slightly underneath the tank head threads.
When do I need to change the Carbon Filter?
As a guide, change the carbon filter every 2nd time the resin is changed.
How do I change the resin?
Please see the video below
This video relates to the Home Owner's Package, but the principle is exactly the same:
Shipping

If your order is placed before 2:00pm, we will try to post same day.

We use a range of couriers to provide you with the best possible freight pricing.

If your order does not ship immediately, we are likely waiting on a courier update. Please refer to your account for updates or contact us to find out more.
Returns

We are happy to work with you if you need a return. Please contact us to discuss.
Share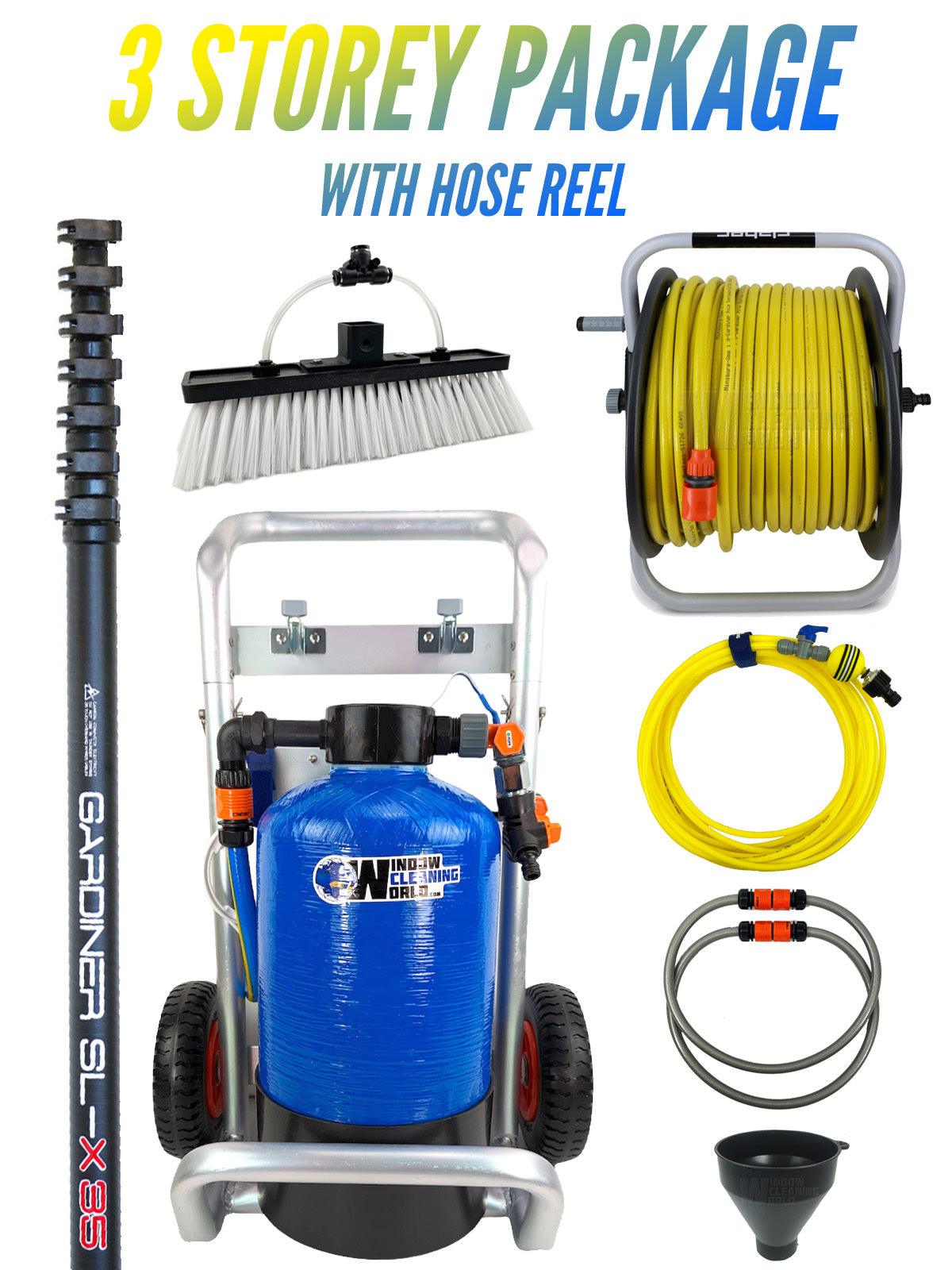 Softwash Australia
All Things Exterior Cleaning

Product Solutions for the Exterior Commercial Cleaner

Parts

Full range of parts in stock to keep your business working

Honest Advice

Simply visit our reviews to see how we have helped others in the industry

Resources

Education and resources so you get the most out of your gear!
FAQs
What is the Softwash Australia Trade Event?

Designed to help professionals in the exterior cleaning industry connect, we have invited the best in Australia and flown in the best from America for our 2023 Event.
As the ONLY exterior cleaning event directed at professionals, expect amazing deals, advice and beneficial networking that WILL improve your business.
What equipment do you provide?

Softwash Australia manufacture and distribute a range of Softwash Application Systems, equipment, training and products for the exterior cleaning professional.

We work with industry professionals such as Jetwave, Honda and more to provide you with a one-stop-shop that offers more than one solution for your business.

For an honest and practical answer to your exterior cleaning questions, call and speak to one of our team today - we'll see you right.
Do you provide after sales support?

Yes we do. Softwash Australia prides itself on service and support. If we can assist to resolve an issue you may be having as a result of any service provided to you. Please contact us via the links provided.
We also are happy to connect our valuable clients with our vast network of service providers across a range of trades.
How long does it take to get started?

We custom build our Softwash Skids to suit your vehicle, trailer or anything else you want us to build on.

With any custom build, there may be delays while we wait for equipment and shipping can disrupt our build timelines.

We will keep you informed along the way and we guarantee it will be worth the wait.
We are Social
instagram.com/softwashaustralia/