EZYCLEAN - Graffiti Removal Starter Pack
Regular price

Sale price

$330.00
With so many surfaces: brick, concrete, render, glass etc and so many defacing mediums: texta, spraycan, stains etc...
let me assure you, there is no magic product that will solve all.
Rather than carry a large range of products where investment would be $500+...for $295 you get the best of all of our products to sample, and moving forward, you can identify which product suits your needs. This avoids carrying large amounts and tying up capital.
That's why we have introduced our Contractor Starter Pack.  The pack contains our complete EzyClean Graffiti Removal range of products so you can tackle and remove any graffiti from most surfaces.  
​
Contents
​
2.5 litres of EzyClean Red Graffiti Remover
1 litre of EzyClean Blue Graffiti Remover
1 litre of EzyClean Black Graffiti Remover
1 litre of EzyClean Pink Graffiti Shadow Remover
1 Can SupaSafe Black Aerosol Graffiti Remover
1 Can EzyClean Blue Aerosol Graffiti Remover
1 litre of Ezy Ecowash Degreaser
plus Consumables
Shipping

If your order is placed before 2:00pm, we will try to post same day.

We use a range of couriers to provide you with the best possible freight pricing.

If your order does not ship immediately, we are likely waiting on a courier update. Please refer to your account for updates or contact us to find out more.
Returns

We are happy to work with you if you need a return. Please contact us to discuss.
Share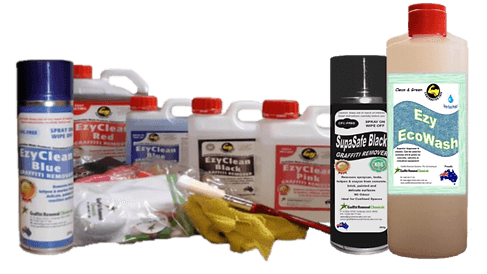 Softwash Australia
All Things Exterior Cleaning

Product Solutions for the Exterior Commercial Cleaner

Parts

Full range of parts in stock to keep your business working

Honest Advice

Simply visit our reviews to see how we have helped others in the industry

Resources

Education and resources so you get the most out of your gear!
FAQs
What is the Softwash Australia Trade Event?

Designed to help professionals in the exterior cleaning industry connect, we have invited the best in Australia and flown in the best from America for our 2023 Event.
As the ONLY exterior cleaning event directed at professionals, expect amazing deals, advice and beneficial networking that WILL improve your business.
What equipment do you provide?

Softwash Australia manufacture and distribute a range of Softwash Application Systems, equipment, training and products for the exterior cleaning professional.

We work with industry professionals such as Jetwave, Honda and more to provide you with a one-stop-shop that offers more than one solution for your business.

For an honest and practical answer to your exterior cleaning questions, call and speak to one of our team today - we'll see you right.
Do you provide after sales support?

Yes we do. Softwash Australia prides itself on service and support. If we can assist to resolve an issue you may be having as a result of any service provided to you. Please contact us via the links provided.
We also are happy to connect our valuable clients with our vast network of service providers across a range of trades.
How long does it take to get started?

We custom build our Softwash Skids to suit your vehicle, trailer or anything else you want us to build on.

With any custom build, there may be delays while we wait for equipment and shipping can disrupt our build timelines.

We will keep you informed along the way and we guarantee it will be worth the wait.
We are Social
instagram.com/softwashaustralia/