SWA - Spitser Spear Pump & Timber Stain Remover
Regular price

Sale price

$140.00
SPiTSeR is excellent for cleaning or removing spear-pump or bore water stains.  Green vanadium stains that can occur on light/cream bricks & terracotta if cleaned with hydrochloric acid. Iron stains from radiator spills, or iron stone stains in exposed aggregate or scratch coats. As well as hardwood & tannin stains.
Stains disappear before your eyes!
Be aware that SPiTSeR can bleach some naturally occurring colours, so always pre-test prior to use.
Do not mix with other bleaches or chemicals.
DIRECTIONS FOR USE :
Use SPiTSeR to remove hardwood, spear pump, vanadium (green) or iron stains by applying "neat" with a brush or sponge, allow to work 30-60 minutes, then wash off with water.
As SPiTSeR has a bleaching effect, special care should be taken to avoid a patchy result, if only spot areas are to be treated.
Use on dark brickwork is not recommended unless pre-tested in an unobtrusive place and approved.  Repeat application as required.
SAFETY DIRECTIONS: Keep locked up and out of reach of children. Avoid contact with skin & eyes. Avoid breathing spray mist. Do NOT mix with other chemicals.
Special Note: SPiTSeR can react spontaneously with sodium hypochlorite (liquid pool chlorine) releasing chlorine gas.
FIRST AID: If poisoning occurs, contact a doctor or Poisons Information Centre Phone Australia 131126 or New Zealand 03 4747000. If swallowed, do NOT induce vomiting. Give glass of water. If skin contact occurs, remove contaminated clothing and wash skin thoroughly with plenty of soap and water. If irritation persists consult a doctor. If in eyes, hold eyes open, flood with water for at least 15 minutes and see a doctor.
Shipping

If your order is placed before 2:00pm, we will try to post same day.

We use a range of couriers to provide you with the best possible freight pricing.

If your order does not ship immediately, we are likely waiting on a courier update. Please refer to your account for updates or contact us to find out more.
Returns

We are happy to work with you if you need a return. Please contact us to discuss.
Back in stock November 7, 2023
Share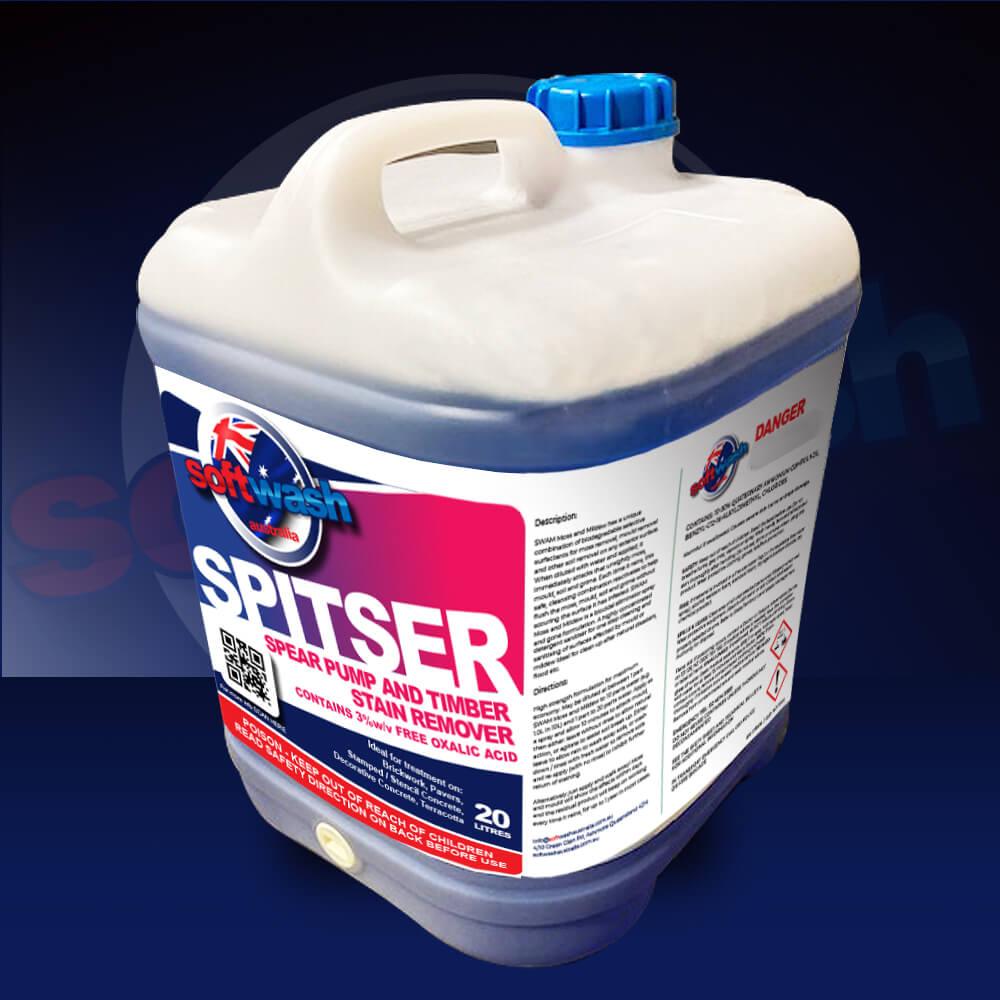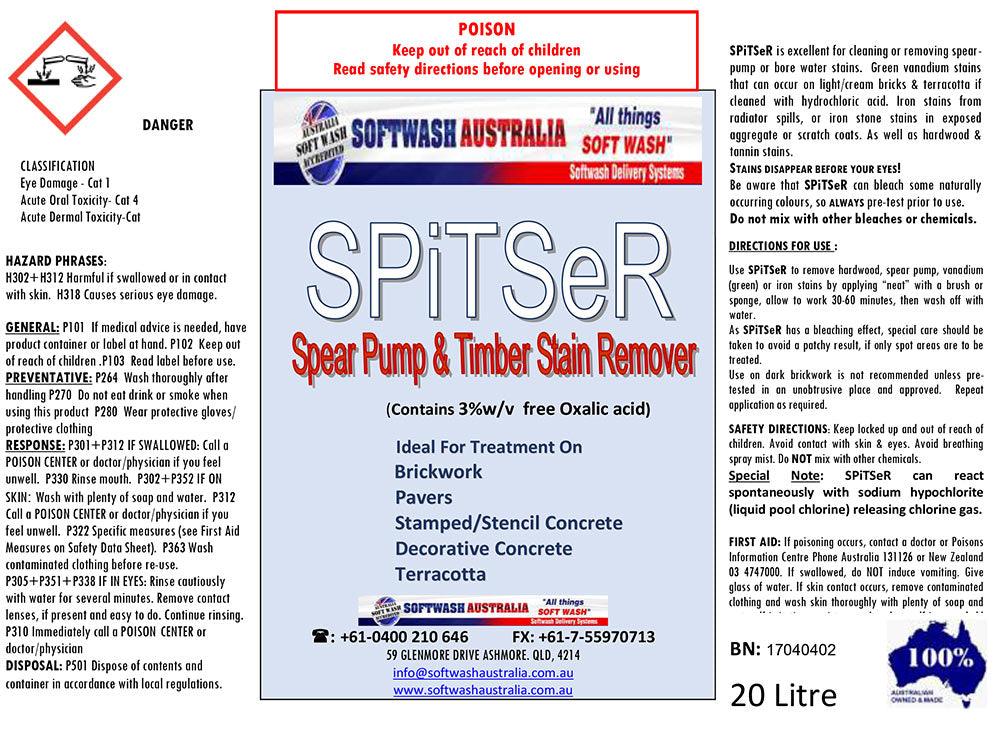 Softwash Australia
All Things Exterior Cleaning

Product Solutions for the Exterior Commercial Cleaner

Parts

Full range of parts in stock to keep your business working

Honest Advice

Simply visit our reviews to see how we have helped others in the industry

Resources

Education and resources so you get the most out of your gear!
FAQs
What is the Softwash Australia Trade Event?

Designed to help professionals in the exterior cleaning industry connect, we have invited the best in Australia and flown in the best from America for our 2023 Event.
As the ONLY exterior cleaning event directed at professionals, expect amazing deals, advice and beneficial networking that WILL improve your business.
What equipment do you provide?

Softwash Australia manufacture and distribute a range of Softwash Application Systems, equipment, training and products for the exterior cleaning professional.

We work with industry professionals such as Jetwave, Honda and more to provide you with a one-stop-shop that offers more than one solution for your business.

For an honest and practical answer to your exterior cleaning questions, call and speak to one of our team today - we'll see you right.
Do you provide after sales support?

Yes we do. Softwash Australia prides itself on service and support. If we can assist to resolve an issue you may be having as a result of any service provided to you. Please contact us via the links provided.
We also are happy to connect our valuable clients with our vast network of service providers across a range of trades.
How long does it take to get started?

We custom build our Softwash Skids to suit your vehicle, trailer or anything else you want us to build on.

With any custom build, there may be delays while we wait for equipment and shipping can disrupt our build timelines.

We will keep you informed along the way and we guarantee it will be worth the wait.
We are Social
instagram.com/softwashaustralia/