Waterfed Brush - 14" & 18" Radial Brush Only
Regular price

Sale price

$522.05
THE TOOL THAT CLEANS GLASS - FAST
RADIAL BRUSHES are known as 'The Game Changer' because of the feedback from customers who brag about the increased efficiency, and the hourly rate they have achieved on premium jobs.  The key is to understand, and use 'The RADIAL TECHNIQUE' as it is actually your technique that delivers the increased efficiency.  
We know this is an expensive brush, however, we also know that you get a return on investment within days of changing to RADIAL with The RADIAL TECHNIQUE ensuring you know THE FASTEST WAY to get maximum efficiency with full coverage of windows in the least time.
For difficult to clean windows, use RADIAL ROCKER
THE GAME CHANGER
RADIAL is a 'triple trim' brush meaning there are three levels of bristle engagement with the glass.  The more you compress the brush, the more active each blade of bristles become, until you contact the center bristle blades on the glass (ideal for breaking up debris like seagull poop) - at which point, the other two bristle blades are at OPTIMIZED WORKING ANGLES on the glass for maximum AGITATION, meaning LESS STROKES are required to effect a clean!   RADIAL BRUSH uses the highest quality of nylon bristle blade to work with hot water up to 60 degrees hot water without distorting. 

Fitted with HYDRO-BLADE II+ technology,  RADIAL gets the jet streams exactly where you need for the most effective rinse, exactly where you need it to rinse corners, frames, edges, and the body of the window WITHOUT TAKING THE BRUSH OFF THE GLASS.  The result is a SINGLE ACTION CLEAN.  AGITATE on the UP-STROKE, RINSE on the DOWN-STROKE.
Whilst RADIAL BRUSH is the TOOL THAT CLEANS THE GLASS, it would not be possible without PIVOT - a perfect and flawless swivel joint that facilitates the rotation of RADIAL to an optimum angle at any time, with a small twist of your REACH-iT POLE.  By angling RADIAL correctly, you can keep the area above your agitation (eg top frame) dry, so there is no dirt in your rinse water.  With the same angle, you can place the radial bristles perfectly in the corner of the window frame and agitate out even the most obstinate spiders' nests. PIVOT has unlimited angles of attack, including negative angles for cleaning windows 'below the waist'.  PIVOT is designed to never wear, never get sloppy, and therefore to NEVER FAIL.  It will be delivered to you at a set tension, however, we also supply the tool so you can set the tension as you like it, from time to time.
RADIAL BRISTLES are a 'BLADE OF BRISTLES' with 100% coverage of the window surface in every single stroke. This means ONE STROKE is POSSIBLE to effect a clean!  What is more amazing is that the TOP BRISTLE BLADE turns any HYDROPHOBIC GLASS to behave HYDROPHILIC - water ALWAYS CASCADES on ALL GLASS on the RADIAL DOWN-STROKE.  This is how we can GUARANTEE that you can CLEAN WINDOWS IN A SINGLE ACTION!

Included in your RADIAL kit, are 'blank' BASE JETS, and in your tool kit are BASE JETS so, if you have enough FLOW-RATE and /or PRESSURE, you can add water under the brush for a more effective DOWN-STROKE (the base blade of the brush acts like a squeegee to take the dirty water off the glass, leaving the top blade, with HYDRO-BLADE II+ to create a WATER SQUEEGEE EFFECT over and past the extremities of the bristles, even when they are compressed against the window.

There is so much to explain about RADIAL and The RADIAL TECHNIQUE - be assured  : With RADIAL BRUSH, you will be cleaning windows so much, so much very FASTER, BETTER, SAFER - more than you can imagine.
Shipping

If your order is placed before 2:00pm, we will try to post same day.

We use a range of couriers to provide you with the best possible freight pricing.

If your order does not ship immediately, we are likely waiting on a courier update. Please refer to your account for updates or contact us to find out more.
Returns

We are happy to work with you if you need a return. Please contact us to discuss.
Share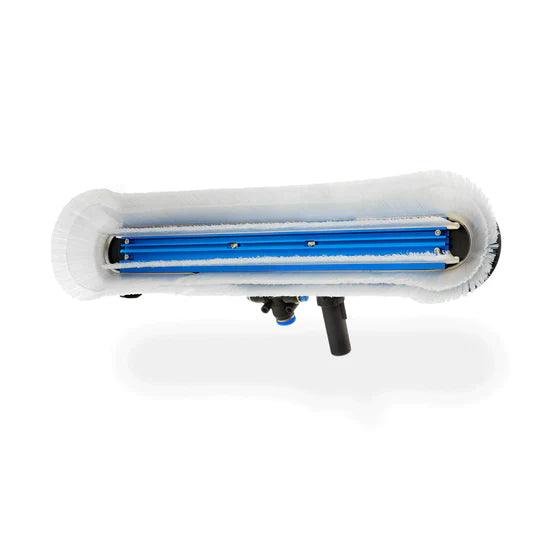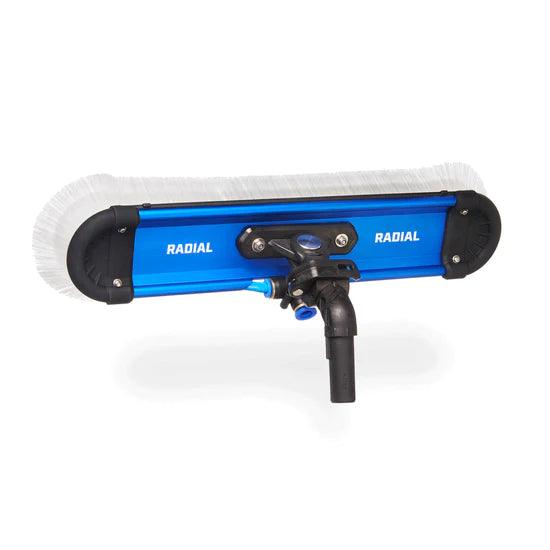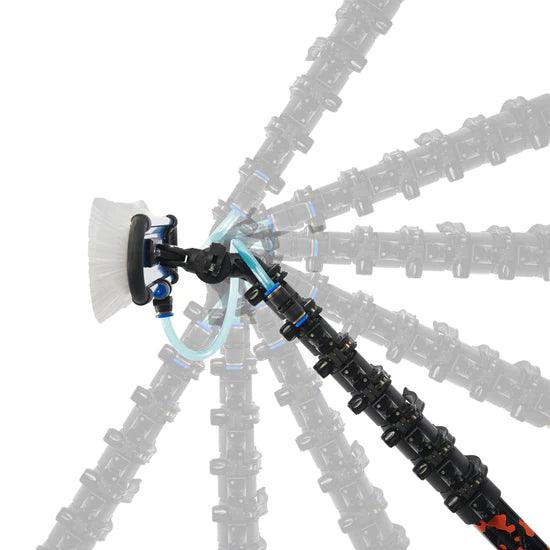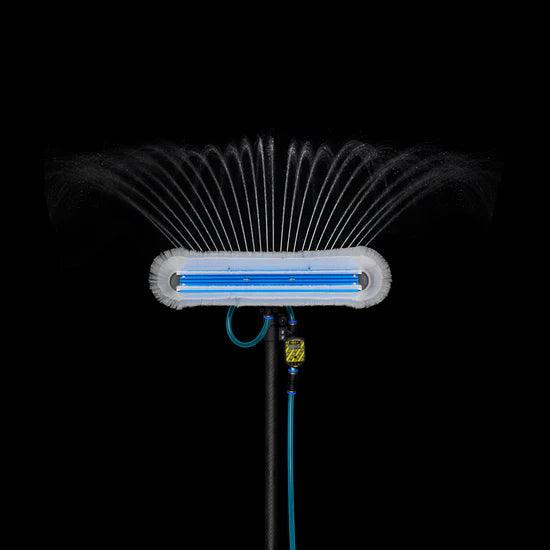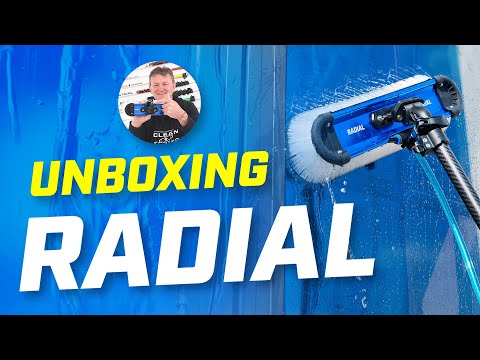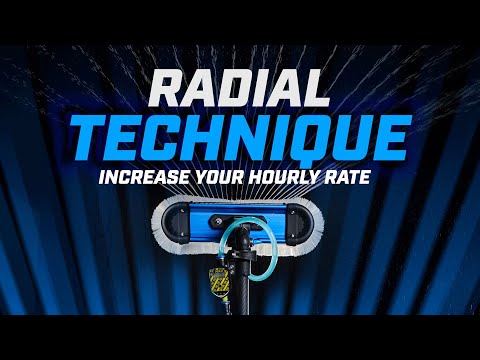 Softwash Australia
All Things Exterior Cleaning

Product Solutions for the Exterior Commercial Cleaner

Parts

Full range of parts in stock to keep your business working

Honest Advice

Simply visit our reviews to see how we have helped others in the industry

Resources

Education and resources so you get the most out of your gear!
FAQs
What is the Softwash Australia Trade Event?

Designed to help professionals in the exterior cleaning industry connect, we have invited the best in Australia and flown in the best from America for our 2023 Event.
As the ONLY exterior cleaning event directed at professionals, expect amazing deals, advice and beneficial networking that WILL improve your business.
What equipment do you provide?

Softwash Australia manufacture and distribute a range of Softwash Application Systems, equipment, training and products for the exterior cleaning professional.

We work with industry professionals such as Jetwave, Honda and more to provide you with a one-stop-shop that offers more than one solution for your business.

For an honest and practical answer to your exterior cleaning questions, call and speak to one of our team today - we'll see you right.
Do you provide after sales support?

Yes we do. Softwash Australia prides itself on service and support. If we can assist to resolve an issue you may be having as a result of any service provided to you. Please contact us via the links provided.
We also are happy to connect our valuable clients with our vast network of service providers across a range of trades.
How long does it take to get started?

We custom build our Softwash Skids to suit your vehicle, trailer or anything else you want us to build on.

With any custom build, there may be delays while we wait for equipment and shipping can disrupt our build timelines.

We will keep you informed along the way and we guarantee it will be worth the wait.
We are Social
instagram.com/softwashaustralia/